Hey, guys! I know it has been a long time since the last startup review. It was the first startup review that I have done. At that time I thought I could easily manage to post one startup review in a weekly basis, or even to do more than that.
Unfortunately, I couldn't. I think that the startup review is going to be once per month at the best cases.
But, let's stop with all the bad news and let's get some positivity. The startup review has been a success. I didn't except some feedbacks from the company itself. Economy Secrets it's still at its early stages and it's always nice to see mutual support from startups that are too in their early stages.
The Shopular team didn't hesitate to share our review on their twitter account.
And since we are just starting, gestures likes these ones are very appreciated and could lead Economy Secrets to the next step someday.
So, Thank you Shopular for it.
This been said, let's get started with the startup review of the day. Today's startup is Omg! No, it's not the short version of "Oh my god!" It's "Oh my green!". Their goal is to deliver Food with Benefits and their mission, as they say, is: "to empower people to lead healthy and blissful lives."
Let's see all the details of that company:
Oh my green! What is it exactly?
"Oh my green!(omg!) " has been founded on 23rd September 2012 by Michael Heinrich. omg! is a B2B -Business to Business- company. It is based in Palo Alto, California, USA. It delivers healthy and natural foods to companies. So the employees of the customer's company can have good meals, that will be healthy and helps to improve their health and mental, without having to go outside of the company looking for the perfect meal. A meal that wouldn't necessarily be healthy for them.
Oh my green! comes to the company's workplace and delivers the food. It could be the lunch, a juice or even a cup of coffee. But all of it is fully organic and without any added chemical substances. They also deliver equipment to assure the distribution of that food in the company.
The food that Oh my green! delivers is approved by a Nutritionist expert the Dr.Pamela Peeke. It's also always taste-tested before that it gets delivered to the customers.
In general, that's the answer to what they do and how they do it? But one question is still remaining. Why?
Well, that's the most important part, as we learned from Simon Sinek.
Why oh my green! is doing this? Well here is the story that the founder lived that inspired him to start that business.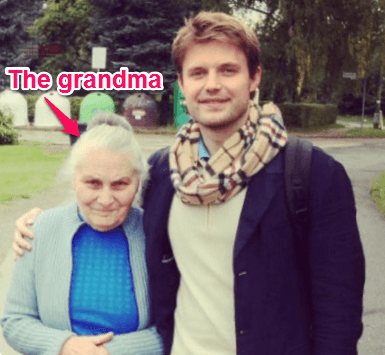 Michael's grandma has an organic garden in Germany. He enjoyed many meals that she cooked for him. Michael's grandma was a Doctor and always indicated and believed that: "What you put into your body directly affects your health and your happiness."
So, if Oh my green! is doing what they are doing. It's simply because it aspires to make the health of everyone's better. To make them happier by correcting and improving the food people gets. And more locally to resolve issues like Obesity. For Michael  "2/3 people in the USA being obese or overweight should simply not be our way of operating."
By deleting all the added chemicals, sugar and other unhealthy ingredients reaching these goals is definitely possible.
That's how Oh my green! sees and describes itself:
And added to all of that Oh my green! pursue some honorable principles which are:
What about the Financial health of the company?
When it comes to financial situation Oh my green!  has already 3 investors and has been incubated through the Stanford Startup Incubator: StartX.
The actual investors are:
Sagar Gupta, Arjunan Rajeswaran and Michael Heinrich not the founder, but weirdly they both has the same name.
Unfortunately, the amount of money invested, and how much is the capital of the company has been undisclosed.
The team of Oh my green! is composed until now by 6 employees, including the CEO and founder Michael Heinrich.
For all of these elements, it's clear that this startup is still in the seed state. But, the whole world is starting to wake up. To keep eating as unhealthy as we are doing now, is clearly a habit that needs to change. Companies like Oh my green! might succeed then. People are looking for healthy habits. Looking for healthy food that will improve their lives and help them having a healthy body that will last longer with a brain that will work better then by the time the body was full of toxins and other harmful substances.
Added to all of that, even if they are still in the seed stage, Oh my green is already working with some big companies like Twitch, Apple and Microsoft.
And so many other companies…
Can it succeed?
It seems that the market of healthy food attracts a lot of companies these days. Oh my green! is going to have some competitors in this market. There is Blue Star Vending, Aramark and Compass Group that all provide catering services for companies, but they don't all give only 100% bio food. And that's where Oh my green! is able to make the gap and take the lead.
In the other side, there is 100% bio retailers like Whole Foods Market, which either can be a good partner or a tough competitor. It can stay a retailer and become a supplier to Oh my green! or it may expand its activity and became a 100% bio and healthy food provider too, like oh my green!  If Oh my green! wants to do it the right they should start working on these points.
How Does Oh my green makes money?
Simply through the deals it makes with other companies. And when you are working with companies like Apple and Microsoft I think if they do well, they are sure to have a great reputation that will last for a long time.
They already got some pretty good testimonials from companies like LinkedIn, Kissmetrics and IDEO.

reminder: "A good reputation is an excellent asset to get more customers."
That's it for this startup review. I hope that you will like it. If there is any point I forgot to discuss or any question that you have about this company, don't hesitate at all to ask me about it. I would be more than happy to answer you.
Images courtesy: Oh my green!