Monday 06:30 AM. Alarm: beep beep beep….
There it goes again, you have to wake up and start preparing yourself to go to work. From 9 AM to 5 PM you will be stuck doing things that you don't necessarily like. Things that you do only because you need a source of income to keep living. To stay alive. To feed yourself and the people you are carrying, without feeling any real satisfaction doing the job -except when you see the people for who you are sacrificing, if there are, fed and in good health -.
Each day doing the same routine. Again and again…
Some little, but important, ideas are working you. Ideas like:  "Starting your own business to get your own independent source of income". "Exploit your capacities to its fullest". "Try the adventure of Entrepreneurship".
One day, may be, you will be convinced that it's a must to do that. You want to try to break the vicious circle of the traditional work.  
You will decide to start your own business, to start the Entrepreneurship venture. To discover the ….. Startup!
Before that you even start concretizing your idea you will need to do the following steps:
Find the right name for your business and check its availability
Give it a logo to be more easily identified
Set a website
Get the legal stuff done.
Estimate the monetary needs
Get the needed funds (if you need some)
Let's get started from the beginning:
1.Name your Business
Every business needs a name. That's how people will be calling your brand. That's how they will recognize your products/services. And that's the name they are going to associate with a specific perception to your products, or it's even going to become a "Verb". Usually, when you found something that you don't understand, there is always that friend who says "Google it".  The name Google has been associated with the research of exact knowledge about  everything and anything. It doesn't have any specific meaning except the search engine itself.  We could say that it's just a random name created due to a misspelling of the word "googol".
In the other side, you can find names like "Facebook" who says it all from the name. A book is full of pages, each page with a face, so it's a book of faces, in other words, a book of people. That's exactly what is it. People put their pictures in it and their lives and many details. The name is simple, easy to remember and so well chosen. There was a thinking phase before to reach it certainly.
Then, we have two kinds of names possibilities:
Random names.
Planned names.
How to get a nice random name for your business?
Having a random name, as we saw earlier with Google, can be one of the solutions to name your business. You will not have to think a lot to find the name that fits. Instead, you will get a name to your business and later make it means something to everyone else.
There are some free tools to do it.
I suggest to you:
It is very easy to use.  You can either ask for names randomly or add some criterias before to get the name.
Note:  This tool allows you also to check the availability of the names. It's nice, but don't get too attached to this feature. I will give later the best free tool for checking availability.
It works the same way.
How to get a well-planned name for your business?
Well, first there something that I need to remind you about. You might know it, but since not everyone let's recall what a well-planned name for business need to be:
Easy to remember: It doesn't have to be long or confusing. The easiest to remember the better it would be for any business to build the Brand authority.
Distinctive: It must be a name that your consumers and potential consumers will not mix with some other brands. Try to Be original!
Meaningful is better: It would be great and nice if you could come with a name that means something. Not anything of course. A name that means what's your goal, or what do you do as an activity. A name that describe exactly and super-shortly what you business is. Like what we saw with Facebook earlier.
If you could come up with  a name that respect all of these criterias. It would be a great name! In fact, it would be the best thing you can do to start your business the right way.
Note: When you will do this, try to come up with more than one name. Try to have as many suggestions as possible. Because it may be a name that it's already taken. And it would be harder – in some cases totally illegal- to compete with  an already established business that have the same name. Add to that, people will see you just as a copier. You will lose your audience before to show them who you really are.
Now  either you had some random names, or well-planned ones or even a combination for both. It's time to check the availability of these names.
There is an AMAZING FREE Tool. That will help you to check the availability of the name for naming your website and also many social medias and platform. The business name, no matter which one you came up with, needs to be as unique as possible, so the links to all your social accounts and website would be professional in a way like that:
www.mygreatbusiness.com
www.facebook.com/mygreatbusiness
www.twitter.com/mygreatbusiness
and so on…
To do it, there is no better tool than Namech_k
It's very easy to use. Just enter the chosen name and see in what it's available and in what it's not. Try all the names that you have chosen one after the other.
After that you test them all. Compare the results. I personally advise you to pick the one that is the most available. But if you see that a perfect name isn't available a lot and you think that your brand deserves to be named like that. Then just do it instead!
There is already some business that have a name, the website has a little variation or a specification of the activity, and the social media some other variation.
For example: The magazine Foundr.  
The magazine name is: Foundr.
Its website is: http://foundrmag.com/
Its official Instagram's account link is: https://instagram.com/foundrmagazine/
You see that? The perfect name for the business hasn't been adapted to necessarily be the same in the links. They instead adapted the links that they haven't found available. Nothing replaces a perfect business name.
So why I ask you to check the availability? It's simply because having the same name in all the links and the business itself will help You a lot to make it easier for you to be a big authority on the Internet. If the name is not the same, and someone create a link to twitter for example with your business name, he/she will easily steal all your followers who may thinks they are following the right account. And it could get worse, someone with bad intentions would just make them hates your brand.
Well, now you must have set up your brand name. Congratulation to you! If it's still not, don't worry. It's not a problem if it takes you time. The more you think about it and invest time on it, I am sure, you will come up with a great business name!
2.Make a Logo for your Business
Now that your business has an identity, it needs a face.
A personal face for the business, so people would be identifying your brand just by seeing it. Even if they don't see the name, they will automatically think about your business. In other words, you need to get a "Logo".
How can you do it? Well, don't worry I have for you solutions that's are totally free.
#1 If you are already a professional designer, just do it yourself.
Doesn't sound as a tip I know, but it will save you money and gave you a professional result. Why deprive yourself of it? It's basic, but many people don't think about it. Don't worry just be confident and don't forget, if you don't like it too much, you could hire a designer later, when the business will start generating revenue, to have a better Logo.
This been said. Let's now see some of the free tools out there to make your Business Logo.
With Logo Garden, you can easily create a logo that will look professional, even if you are not a designer!
It just goes through 3 principal steps:
First Chose the industry in which you are going to work. (e.g Clothes+ Jewelry)
Then choose one of the shapes.
And Finally just add a name, choose the right colors and there you go! This is your Logo!
Sorry if you are a little bit lost. Here is the Legend:
1: Zone where you will be able to choose the colors of each part of the logo ( the draw, name..etc)
2: If you want to add some detail like a circle or a square back.
3: 4 Effects are available for every part of the logo.
4: You can choose the Font of the text, add some text, rotate the logo and so on…
5: Your Magnificient self-made logo.
6: Final row, save it and then download it!
PS: Before, then you get the logo you will be asked to register in the website.
Well, that's a free tool guys….
And Logo Garden isn't the only free tool to do it.  There is also
You will get a nice result with it also.
Free and good enough results… Always a good thing for starters! 
Now that your business got a nice name and visual identity, it's time to reinforce the presence of the brand. A way to reach more people is to have a website!
3.Make a Website for your Business
It's 2015 my friends! In these days, even if you are doing business offline (bakery, restaurant…etc.) the online presence has become a must!
Many businesses will don't go further than having pages in some of the  "main" social medias. That's a bad idea! Nowadays, the more you are present on the Internet the more you will be able to reach more people.  Yes, there are some people out there who use only vine and Pinterest, facebook and twitter don't mean much to them.
And it should not stop only on the social medias. Having a website will simply be a helpful step towards reaching Business Success. It will add value to your business, show the professionalism and be the center of all the information that your customers might need.
But you know nothing  about HTML and CSS?
All these coding lines seems scary to you?
You don't want to spend a fortune to hire programmers and designers to build your website?
Well, don't worry! As I said before, "It's 2015". Having a website may have become a must, but it also became easy…. easy a lot!
So to do it, there are two main possibilities (considering that you are not an HTML guru):
Use Websites/Companies that help you make your own website
Use a Content Management System (CMS)
Let's detail that:
Websites/Companies that helps make your own website
Many companies like Weebly, Squarespace, Webs, Wix and more, offers the service of the creation of websites.
You can do it either for free, with few features and not a professional domain name (the domain name it's the name of the website for example: "exampleofdomain.com". The purple words are the domain name.)  Because you will automatically get a domain attached to one  of these companies. It's going to be something like this: " YourAwesomeWebsite.Webs.com". Replace Webs with any of the other companies name.
And it doesn't end here, for the ones that propose the free version, you will have some ads put in your website about their service. That's  quite right, I admit. After all it's for free! But the website that you are going to have will definitely not reflect the professionalism of your business. So I  would prefer from you to avoid this solution and turn to CMS and also the paid services of theses companies (only if you have extra money!).
I checked the prices of theses different businesses. It seems… well, I'm going to say "Ok". Because I find the prices quite relatively high. Anyway, I am just showing you the different solutions, there are cheaper ones, but you know, nice work is usually expensive.
Let's see now the solution to create a website that I have personally done. And since I am just starting, I want to say that it's also the solution that many successful brands nowadays have used. It's the CMS.
Content Management System (CMS)
There are many Softwares that help you to manage your websites in the most optimal way. The CMSs has been created to make it easier for everyone who want to create a website.

The most popular ones are: WordPress, Drupal, and  Joomla.
Each one has its own features:
Drupal offers the most powerful platform to handle a website. And when things become powerful they also became "Hard". That's why Drupal is commonly known as the hardest CMS too.
The main features of Drupal are:
Best Performances: Drupal pages will typically load faster than the pages made with other CMS (WordPress, Joomla..).
Technically advanced: it doesn't load faster for no reason. Drupal is also the most technically advanced. You need to be qualified to be able to well manage it. And of course, because it's too technical, you will not have to use a lot of the resources of the hosting. So no need to improve to a more expensive hosting service too early.
Customizable: Like all the CMSs, Drupal has many plugins and themes available to customize your website as much as you want. If you are good in programming you can even edit the root files!
But be careful, the more you will add of these, all the gain in speed and resources that you earned from the technically advanced side of Drupal may get lost.
FREE: That's the common feature in these three most popular CMS. And that's one of the biggest gains for the Internet community.
Joomla can be placed between Drupal and WordPress when it comes to the difficulty to handle. It's mostly known to be the best one to manage social networks (we are talking about creating and managing ones). Its principal
features are:
Social websites: Joomla makes it the easiest to create and manage social networks.
Commerce websites: It is very simply to set an e-commerce using Joomla. It's certainly possible with WordPress and Drupal. But with Joomla it's easier. That's it.
Not too technical, not too user-friendly: As I said earlier. Joomla positions itself in the right middle spot between both WordPress and Drupal. So it's in the middle when it comes to easy-to-use and in the middle again when it comes to technical difficulties to handle.
Help: Joomla offers a help portal, which can help you to resolve all the problems that you may encounter.
FREE: Yes, it's free too!
Definitely the most popular CMS these days! And it deserves it.
WordPress is the easiest one to use, and being easy don't make it outdated or unuseful. Many great websites had been created using WordPress. Some actual successful people  are using it. Like Pat Flynn  and Katy Perry. And even big brands! Like Bloomberg Professional and Vogue. And so many more…
It's not a coincidence if all these successful businesses and websites were all created under –or transited to– the same CMS.
WordPress offers the biggest amount of features:
The easiest to install and to run: If we had to rank all the CMSs (not just these three) WordPress will certainly, win the award of the most user-friendly CMS. And by far! In fact, it's too easy and  popular, that many hosting companies offer special WordPress offers.
The Most customizable: Since it's the most popular, also the biggest amount of developers will logically be found there. That's why WordPress has the biggest amount of plugins and themes available. Many thousands of them are for free!
Great Community Support: Again the most popular = The biggest community. So automatically a great support! People are out there, ready to help. And all the problems that you may face could have been already treated and were resolved and published in the Forum.
FREE: Yes, all of these three popular CMS are free. I said it in each one because they are all powerful and being free is so amazing that we don't consider it a lot sometimes.
Well, with all these CMS you can create AMAZING websites. But you can't put them on the Internet directly. You will, unfortunately, have to host them in an hosting company and buy a domain name. It may cost you an average between $30-$60 a year.
But, there is always a free solution! If you want to use WordPress, you can use the wordpress.com. It will host your website, and give you the freedom of choosing the domain name. The only thick is that no matter what the website name is, it will have the obligation to end with wordpress.com in its name.
You could also use the same trick, with Blogger. Which is a CMS created & owned by Google (so you need a google account to use it). A way less powerful and interesting than all the three that we discussed before. But your website will be hosted at Google, so I think  you will have the highest level of security in your website ;).
As a personal advice, I would really prefer to use WordPress since it's the easiest. No matter if the website is a blog, a magazine, an online store ( you can make awesome stores with Woocomerce. If  you don't like WordPress at all, check Shopify then, it's dedicated only to that, but can't be afforded by everyone.) And I would prefer to pay the little annual hosting and domain fees. You don't have to worry about it too much, there are thousands of coupons out there to help you save money while doing it.
That way, you will have a professional  website with all the characteristics  that successful business put on their websites.
Now that the website is set, it will be better to optimize it, right?
For that the fields that you will have to manage in your website will be mainly:
The Search Engine Optimization (SEO)
Writing
Images
Social Media
Let's detail each one:
a) The SEO
The SEO is one of the keys that you have in order to make your website ranks higher in the results of the search queries that people make with the search engines.
If you do SEO well, your brand will be recognized and for FREE. Of course, it's not going to be easy. The easy way will be to pay the Search Engines to advertise your website. After all, that's their main source of income.
There are many free tools to help you with it:
For Keywords:
Before then you start writing it would be better that you choose topics where you can easily rank. Choosing the right keywords for that would be the first right step.
With SemRush, you will be able to  have an overview of keywords related to the topic, with the volume of search and the cost that people would pay for it. Furthermore, you can track your own visits and from where they came, and also get  some information about you competitors if you want to.
Spyfu helps you to know some of the keywords that your competitors are ranking in (don't know who are your competitors? Don't worry I have a free tool that will help you a lot for that).
You can always use the keyword planner from AdWords. It's a free tool, and it will let you know about the volume of searches of a specific keyword, the average cost of it and also the competition which is already fighting to rank in it. (if there is a high or low competition)
For analytics:
It will keep on track to know the number of visitors that you get in a daily/monthly basis. From where they are from and if they are using a  computer or a mobile. So you will know how to optimize your website for the next days.
There is also the heat-mapping, which is an incredible feature to know exactly what every one of your visitors does in the website. Companies like Kissmetrics and CrazyEgg will bill you for. (It's quite expensive doesn't do it if you are just starting. Not only it will cost you too much, but the information will not be too useful at that time since there are not a lot of visits)
Finally for the SEO part, if you are like me and you are using WordPress. I advise you to install the plugin Yoast SEO. It's very great! There is all that you need to help you increase your ranking in different Keywords.
Just before then we close the SEO part, I advise reading SEO specialists blogs, like Quicksprout, the MOZ blog, and Backlinko. And you have to know that the more the website is optimized the more the website ranking will be better.
Let's keep going.
b) The Writing
This is one of the most sensitive parts in any website. The content that you will put on it shouldn't be full of grammatical  and spelling errors. But, when you write daily and in a fast way, sometimes there will be some mistakes. You will certainly correct some of them when you will do the re-read before the publishing. But you might miss some of them.
We are in 2015, today there is many tools to helps you do it the right way!
That's a very good anti-procrastination tool. There is no distraction in here, all that you need and can do is to write. You are going to love it. I promise.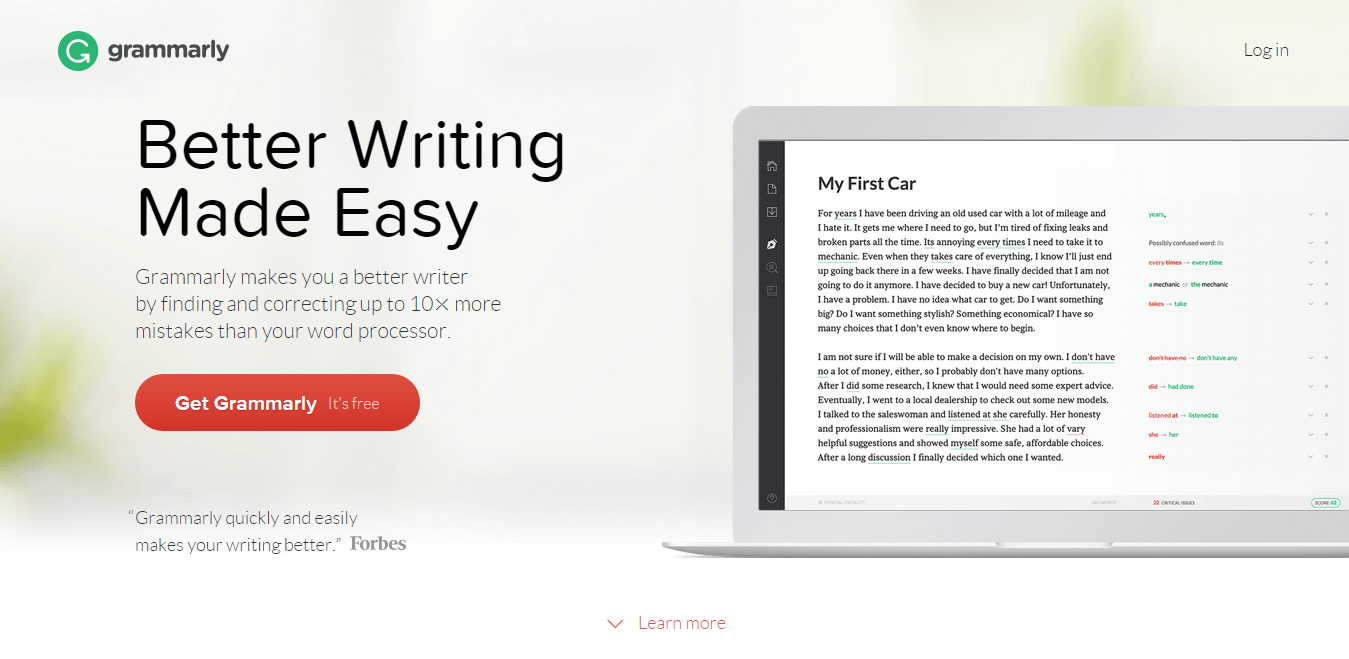 This a web-browser extension that will correct for you all the grammar and misspelling errors that you may have done when you were writing. (Unfortunately for Firefox lovers there is still only a Chrome Extension for now. But you can check your texts by uploading them directly on the website directly.)
You wrote using the Zenpen, corrected it with Grammarly. Now it's time to see the readability of what you created. And that's the most important purpose of all what you were doing. To create AMAZING content that will be liked by your audience. And to make it likable it has to be easy to read. With the Hemingway app, you will easily do it!
c)Images
When it comes to images in a website. There are three things you will need to do:
Get the right images
Create Images
Optimize  your images
Let me detail each one for you:
Get the right images
I mean by it not only to get images that fit the topic you are discussing (that's already obvious I think). But I mean to get images that you can use without disrespecting any law or Intellectual property.
To put an image on your website you should have the right to use it.  Don't worry you can have that right without paying anything!
Always check first the public domain images:
Pixabay is a search engine for pictures that are definitely free to use. You don't necessarily need to mention the source if you don't want to.
Morguefile also serves free rights pictures. You can find also pictures with specified rights to respect (like to mention the source, or to pay a fee). But as a starting business I think that you should always prioritize the free items than  the paid ones. (Unless you have a big budget and there is a paid picture that you deeply need).
If public domain pictures don't fit your taste. You can use images that are private but that people allow you to post them (or even to modificate them and then post them) but only  if you mention the source.
You can easily do this by using Flickr. I love it!
Just in all your searches, use the filter "Commercial use & mods allowed". That way you will be sure that you have the total right to use this picture.
Also, for each image that you will use, check the specific obligations (the rights of the owner) that you will have to respect.
For example for this image:
I have to respect these exact rules:
Now that you have got all the images that you will want to put, you can even modificate them to make them more appropriate to your post.
Here are three free great tools for that:
It's very easy to use. Just choose a background from all the images that they are proposing or upload one of your own (Be sure to have the rights of the picture in that case). Add some text. Then the Logo of your business if you want to make it your own, or leave it without it. And there you go! You have got your image! You can either download it or share it directly. Or even Buffer it….We will get to that later don't worry.
Just click on the "Edit" which is in the right of the logo and you will get to it.
PicMonkey images editor offers you many features and options. Try to use the simplest things because if you want to use everything it might get complicated and you will get at the end an awful result. I advise you to just use some effects and crop it according to what you need and if it's needed, resize it and rotate it too. That would be enough as a beginning.
With Canva, you will have a lot of creativity possibilities. There are a lot of outstanding personalized images that has been made through it. Added to that, they are the only ones who offer tutorials to help you master the tool and also a kind of social platform where you can share your works with other canva's users. That way, the community interact and there is a lot of improvement that each one will be able to make.
There is also a great tutorial to use this tool and understand it that has been made from a very known SEO specialist: Neil Patel. Here is how he explain the way canva works.
d)Social Media
In order to get closer to people, you will have to be as active as possible on social medias.
But this is not easy, it's hard. It will take you a lot of time to work on all the social medias you want to be active on. It will make you lose a lot of time. A time that you could spend doing something else a way more interesting and productive for your business.
Hopefully, these days, there is free tools to helps you manage all your social accounts from the same platform.
I am going to tell you about the two most popular and effective tools.
You may find others, but just one of these (or both) would be more than enough.
Here I am buffering  the post: "Why The World Would End Without Entrepreneurs?" on both our Facebook  and twitter official accounts.
Both, Hootsuite and Buffer, offers almost the same features. And they will help you too much to save a lot of time for the social medias. But never forget, you are using them to get more social and save time, so never ever forget to be interactive with your audience. Nothing will ever replace humans interactions and socialization.
Bonus: Know your competitors!
Just cause I like you guys and I know how much this could be so useful. I am going to tell how to do it the exact way.
To know your competitors can be crucial and give you a big push-up. Just don't see them as your enemies. Because they are definitely not!
It's really easy and  totally FREE to do it.
You can do it just by using the Google search engine (or any of your favorite search engines)
Just do a research about something like:
-Top Fashion stores
-50 Top Fashion e-stores
-Top Fashion websites
etc..
Just replace the word "Fashion" with the main activity you are working on.
There is also:
Just pick the categories in which you are doing business and you will get all the best  websites that are in the same field.
Now that you know you competitors try to connect with them. See if they accept guest posting, if they are interested in doing some work together. Well, things like that.
Furthermore, you can take it to the next step. Analyze the website of your competitors!
Know the websites that point to them and helped them to rank so high. These websites may help you too!
For this just use:
and/or Ahrefs
They will give you a lot of information about which domains has already pointed to your competitors. These same domains as they pointed to your competitors they could also point to YOU!
And that will help you a lot to make your website well known.
And if you want to be sure to please your audience concerning the content. First, as said earlier, respect the grammar, avoid misspellings and make sure to provide easy to read content. Secondly, write about topics that had already pleased your audience!
How are you going to do that?
That's easy!
Your competitors are going to give a HUGE help for this too.
Since you and your competitors are targeting almost the same audience, it means that what pleased them from your competitors will certainly please them from you too. (of course you will have to excel in the topic not just talk about it) 
How to find topics that have already made a huge success?
Content that has made a success is certainly a content with whom the audience interacted a lot. A content that has been shared many hundreds and thousands of times through all the Internet.
How to find that?
I advise you to use this free tool: BuzzSumo
Just enter the domain name of your competitors (for example www.myfriendandrival.com) and you will get the most shared posts from that website. So you will get what the audience want to read about.
Take notes, and start writing down your upcoming AMAZING posts!
Now,  let me give a help to manage the two sides of the business that will generate revenue and to who you will pay expenses:
1.The Team
No matter what is the business that you are running you will certainly going to need a team just to be more optimal and have a better quality of service/product.
In order to have a great team and manage the costs, always hire permanently what you will constantly need. Never hire permanently someone that will work only on some few tasks for you. Hire a freelancer for that instead!
Platforms of Freelance are getting more popular and more trusted. You will not regret it.
And don't worry, if you need the freelancer again for a special task you will not need to go back searching for him through the freelancers platforms. Just keep his/her personal contact information and you will certainly not regret it.
(Use a simple spreadsheet for this, it will be OK)
The most known freelance platforms are:
Also to help you to manage your team I suggest you to use Asana.
This free tool will help you to coordinate the task of your team. (It remains free unless you go further than 15 members in the team)
For the same task, there is also #slack. 
And as an option to help you to manage all the bills, Zenpayroll could be a great solution.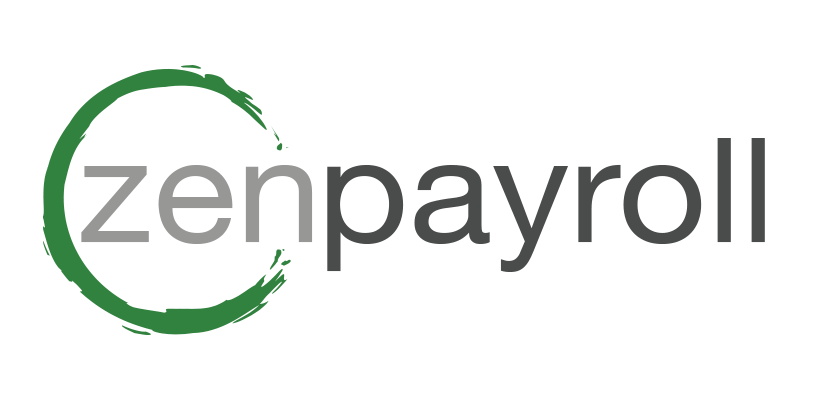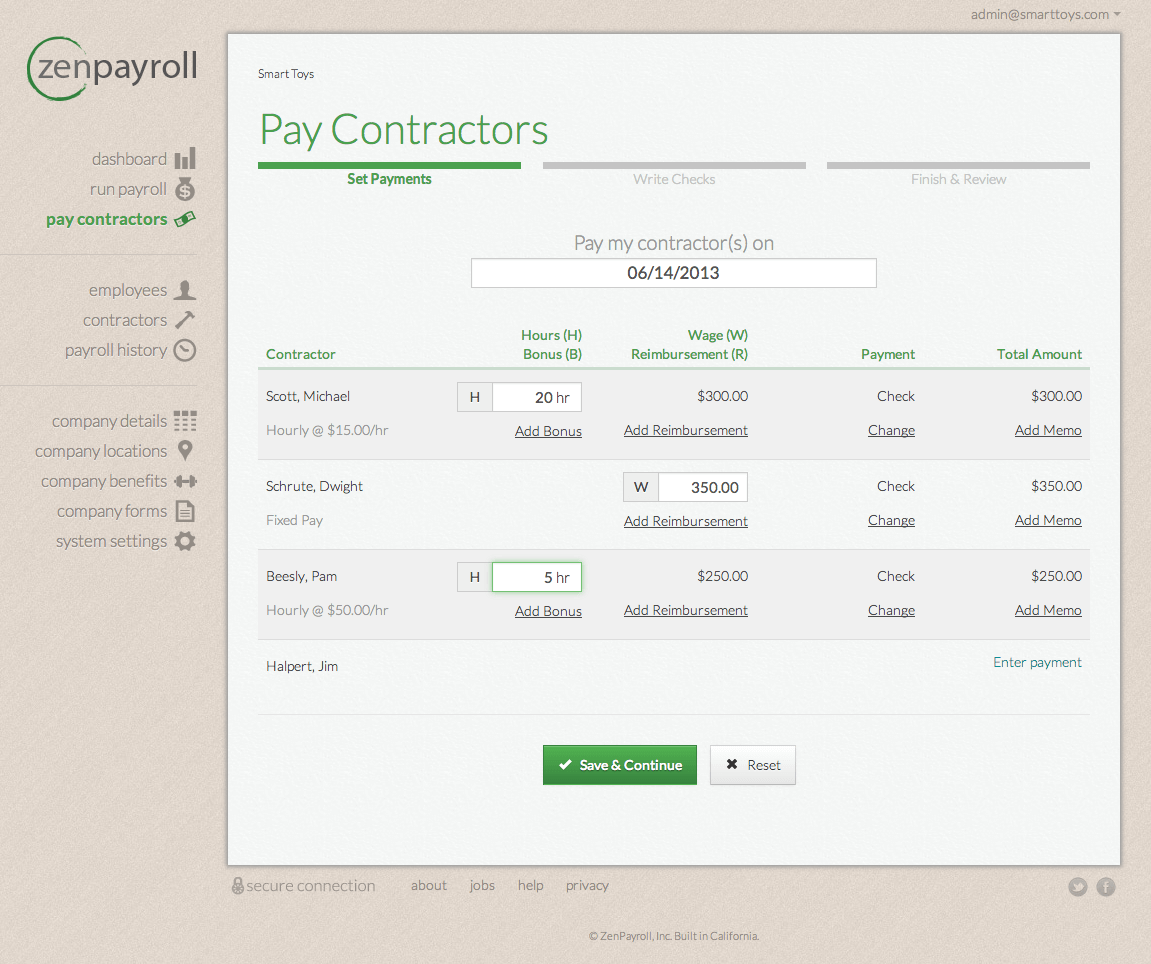 Yes "could be" because unfortunately it's not free. It can be used for free for the 2 first months, if you think that two months would be enough for you to start generating a revenue. Don't hesitate about it!
2.The Customers
There is only one boss. The customer. And he can fire everybody in the company from the chairman on down, simply by spending his money somewhere else".-Sam Walton
Customers are certainly one of the essential parts of every business. You should care about them. Make sure they are happy and satisfied with what you are providing.
They are the main resource of income. "No customers no money". That's very simple and easy to understand I think.
In order to do well with them. There is what we call " Customer Relationship Manager", commonly shorted to "CRM".
With the CRM, all the data and task you will have/need to do will be gathered in one same place.
There is free CRM proposed from Hubspot. I never tried it, but the feedbacks are great. Added to that, Hubspot is a company which is well established by now. I don't think they would take the risk to propose something not good.
There is also a paid CRM that works very well. I personally got to use it when I was on an internship in a company.
It's Salesforce. It's very nice, to use it or not? Well, it will be according to your budget my friends.
The most important thing is that you must do your best to keep your customers as happy and satisfied as possible. Don't underestimate it. Always remember:
A satisfied customer is the best business strategy of all." – Michael LeBoeuf
4. The Legal Side
Well in each business, of course, there must be this "boring side" as many would call it. The legal side of each business is what will give it the strength to face many risks, like the disrespect of intellectual property, content stealing… and so on.
Furthermore, a company that has its legal paper done will bring more confidence on customers when they will have to deal with it. Same for investors that could be interested in joining the venture.
The legal papers are what establish the Trust. No legal papers = No Trust = No Business.
Hiring an attorney will cost you a lot for sure. And you can't take so huge expenses and you are still just starting. You are not even sure if this business is going to survive by next year.
I have some solutions for you. Even free ones!
It's not going to be easy or done in one or two clicks, but you have to understand that it's a very sensitive side of the company. And it should be handled very carefully
In this website, you will find a ton of free legal documents. Not all of them are exactly what you need. Don't just copy/past them. But these legal documents are examples of what you may need. like a foundation doc for example. So just, check them, and try to adapt them according to your business.
Don't forget, since all businesses use customers information you will need to set up a privacy policy. ( check it on Docs, or one of your favorite websites, or even the economy secrets's one!)
And if you don't find what you need in Docracy there is also:

It offers almost the same service.
Another advice, try to adapt the legal documents according to your country. And when I say your country I mean the country where you are willing to do the business.
And there you go, you've got the important legal papers done and for FREE!
After that you start generating some revenue, I advise you to switch to a paid legal service.
It's time to get what you have done earlier checked and improved. Also, to get all the professional legal defense for whatever that could happen to you.
There are two companies that are doing quite well in this area on the Internet:
With any of these, you are going to be in security and respect of the law.
Note: if you can get the legal side done before, don't hesitate to do so. The numbers are not an  obligatory exact order to respect.
5.Estimate the needs
Now that you know everything that you need to start your business and all that you could get for free in the beginning. Just calculate how much you will need precisely? And I say "need" because if it's something that you can start the business without having it, don't COUNT IT!
Never forget that starting a business is never going to be easy. The financial side is what block many entrepreneurs. So try to be selective when it comes to the prioritize of your business.
6.Get the needed funds
You estimated how much you are going to need. Do you  have that amount of money?
Well, if you do good for you and good luck for the adventure.
If you don't, try to reduce it by cutting the unnecessary expenses. If it's impossible let's get you your needed capital!
There are many web platforms that you can use to share with people what your business is all about. If it's something that really touches them and interest them they will want to support you. And they will do so by giving you as much money as they can. Cherry on the cake: "You will remain the only owner".
Crowdfunding is all about encouraging bright ideas.
You can use all of these:
(PS: I advise to choose only one and work with it)
It's really easy to create your project and start receiving the funds. Just name your project and specify the category. You will also have to precise your country because unfortunately the Kickstarter services are not available in all around the world.

GoFundMe defines itself as one of the best for these reasons:

All kinds of projects are welcome. And they can all raise the needed funds.
Here  is an example of a project which goal is to realize the wish of a brave kid.
Many has already got great results using these platforms. Why not you?
There you go. From scratch, you are now able to start your own business with the most optimal options.
Just don't think that quitting your job to Entrepreneurship is going to be a fun part.
It's going to be hard, and  you  are certainly going to work harder than when you were an employee. Always remember the saying:
"Entrepreneurs are willing to work 80 hours a week to avoid working 40 hours a week."
The road of financial independence is hard and long, stick to the path and you will definitely succeed.
Image courtesy:1