Kevin O'Leary is a Canadian successful businessman and a member of the jury of the famous show "Shark Tank" with all of Mark Cuban, Robert Herjavec, Lori Greiner, Barbara Corcoran and Daymond John.
He is also known to be a journalist, a writer, a financial commentator and mostly hailed in Canada as the Donald Trump of Canada.
He came from a family that immigrated from a small village in Lebanon to Canada, without any money, but yet they were able to become a rich family, mostly due to the entrepreneurship of Kevin O'Leary.
We are going to see the full story of the mean Shark of the Shark Tank show, and understand how he was able to reach all the success that he has reached these days.
Let's start first with his early life.
The early life of Kevin O'Leary
Kevin O'Leary was born in Montreal, Quebec, Canada on 9 July 1954. His father was a Canadian with Irish origins who used to be a salesman and his mother was Canadian with Lebanese origins, that used to be a seamstress turned small business and clothes.
Kevin O'Leary's maternal grandfather, Joseph Bookalam (English version of Yusef Abukalam), was a successful businessman. At the age of 16, Bookalam  immigrated to Canada and worked at the store of his uncle in Cobalt, Ontario. He managed to work there until he got enough money to be used as a seed for his own entrepreneurship venture.
Later he married Kevin O'Leary maternal grandmother, who were from the same native village from Lebanon, and moved to Montreal. He used the money left to open "Kiddie Togs", a store which make children's winter clothing.
After Bookalam death, O'Leary's mother kept running the business successfully for many years.
Kevin O'Leary's parents divorced when Kevin O'Leary was still a child, and he stayed with his mother. The dad died just a short time after the divorce.
As a result, Kevin O'Leary's mother had to struggle and hustle against  all the emotional and financial problems they were facing. She later got remarried with an Economist of Egyptian origins.
Due to Kevin O'Leary's stepfather international assignments, Kevin O'Leary traveled a lot and learned so much about world cultures.
Kevin O'Leary had a huge interest for business and investment at a young age. Until today, he remembers his mother advice concerning investments:
His mother died by the time Kevin O'Leary was in Nepean High School in Ottawa. In order to generate some side income to get all that he needs, he worked in a lot of odd jobs after school. He also developed a passion of photography starting from that time.
One day, during one of his side jobs, he learned a lesson that will impact him for the rest of his life. During his second day in an ice cream shop, the store owner commanded Kevin O'Leary to get down on his knees and scrape the gum off the floor. Kevin refused! Which led him to get instantly fired. When Kevin O'Leary talk about that experiment, he says that he didn't know what the word "fired" meant. Later, when he was heading back home on his bicycle full of shame and shocked that someone could have that kind of power to control him. He made a personal conviction: to be self-employed for the rest of his life.
After graduating from high school, Kevin O'Leary aspired to invest more in his passion for photography, but his stepfather advised him that a career in photography was not financially viable and a stable career path, it's only a small percentage of photographers who achieve fame and fortune.
At that time, Kevin O'Leary put his artistic aspirations on hold and went back to the University.
He received an honors bachelor's degree in environmental studies and anthropology from the University of Waterloo, in 1977. He also received an MBA in entrepreneurship from the Ivey Business School at the University of Western Ontario in 1980.
Of course, Kevin O'Leary didn't wait until he got his MBA to start his entrepreneurship adventure. In fact, it all started while he was still studying for it. Exactly in 1979 between the two years of the MBA.
Let's see all of it in detail.
Kevin O'Leary's Business Life
The beginning of the Entrepreneurship adventure for Kevin O'Leary
In the summer of 1979, between the first and second year of his MBA, Kevin O'Leary has to do a summer internship. He postulated for many companies and got a four-month internship at Nabisco.
Kevin O'Leary worked as an assistant brand manager for their cat food brand. After that he got a job from his internship, his main task was to increase the market share of Nabisco's cat food brand. Of course, he did it. He even developed through that journey many skills that will be very useful for him later.
He left Nabisco just a while later and started a new project with two of his former classmates at his MBA program. Kevin O'Leary co-founded "Special Event Television" (SET).
SET was fairly successful. It was an independent television production company that produces original sports programming.
Kevin O'Leary sold his ownership of SET later to one of his partners for $25,000.
The Project that made Kevin O'Leary Millionaire
Of course, Kevin O'Leary was not planning to stop here. He started a new company "SoftKey". Except that this time, he got tricked by the biggest funds source. An investor committed $250,000 in development capital of the company. But then backed out the day before signing the documents and delivering his cheque. Naturally, Kevin O'Leary was left desperate and devasted. He needed some extra money for the seed capital. He used the money he got from selling SET and asked his mom to lend his $10,000 to establish SoftKey. Hopefully, it worked out fine, and Kevin O'Leary will never forget the lesson.
SoftKey Software Products started in Toronto in 1986. The company products consisted of software designed for home audiences. In the beginning, the company started by packaging some  programs of another company, mainly Educational (focused on Mathematics and reading). Then Kevin O'Leary decided to pass to a more cost-effective strategy: "licensing software and marketing it under the SoftKey Brand."
SoftKey faced a lot of competition in the 1980's due to the harsh competition in the domain. Although it succeeded in the 1990's. Kevin O'Leary was aggressive when it comes to the promotion of the company's products and earned a reputation of being fanatical concerning the company's control of their market share. This aggressive attitude led SoftKey to surpass the competitors via acquisitions and scraping products in these companies' software that didn't sell.
By 1994, SoftKey had become a major consolidator in the educational software market, acquiring rival such as "WordStar" and "Spinnaker Software".
In 1995, SoftKey acquired The Learning Company (TLC) for $606 million, moved its headquarters to Boston and changed its name to The Learning Company.
TLC earned more than $800 million in 1998 alone and acquired its former rival Broderbund in June 1998 for $416 million. Kevin O'Leary sold the company for  $4.2 billion to Mattel.  This acquisition from Mattel was later called one of the worst of history. The sales and earnings of Mattel soon dropped after the deal. The expectation were about a profit of at least $50 million, instead it was a loss of $105 million loss.
Mattel shareholders filed a lawsuit against Kevin O'Leary, TLC CEO before the acquisition and Mattel executives of misleading investors about the health of TLC. Nothing has been proven in court, and so Kevin O'Leary got out of these troubles with exactly "nothing".  The same thing happens to all successful people. Haters gonna hate…
Kevin O'Leary business life in the recent decade
In 2003, Kevin O'Leary kept expanding his entrepreneurship stories and invested in a new field. He became co-investor and director in a Canadian leading developer of climate controlled storage facilities, "Storage Now".
Storage Now was producing facilities for many pharmaceutical and technology companies, like Pfizer, Johnson  & Johnson..etc. Through a serie of real estate developments, storage projects and acquisitions, Storage Now became the third owner and operator of storage services in Canada.
Storage Now was acquired in 2007 by In Storage REIT for $110 million.
Kevin O'Leary sold his shares, originally bought for $500,000, for over $4.5 million.
By 2008, Kevin O'Leary wanted his name on the door, and he got it. He co-founded O'Leary funds.
O'Leary funds is a mutual fund company focused on yield investing. It concentrates on companies that have nothing to do with oil and gas and that sells more than 50% of their goods and services in the United States.
Kevin O'Leary is also a Shark Tank and he is known for being mean and rude with the participants. Although he got 34 deals from Shark Tank. Here is a list of all the deals he has done.
He  has also written some books through his career. The books are:
Synopsis: Kevin O'Leary share secrets about entrepreneurship, business, money and life. Can you make millions just by "visualizing yourself rich" as some business prophets
suggest? Don't buy it, says Kevin O'Leary. If you want to be a successful entrepreneur and amass wealth, you're going to have to work for it. But the good news is: with the right guidance, focus and perseverance, you can turn entrepreneurial vision into lucrative reality and have the personal freedom that only wealth can buy.
Kevin O'Leary would know. The much-feared and revered Dragon on the immensely popular show Dragons' Den* (and Shark Tank in the U.S.) started his company in his basement with a $10,000 loan from his financially savvy mother. A few years later, Kevin sold that company for more than four billion dollars. In this compelling, candid and, above all else, brutally honest business memoir, Kevin provides engaging, practical advice and lessons that will give anyone a distinct competitive edge.
*: Dragon's Den for people who might not know it is like a Canadian version of the Shark Tank show in the USA. Same principles, same rules.
Synopsis: "a completely unique personality. He is able to say things that are sharp and funny but ultimately meaningful" (Los Angeles Times).
This is simple advice, but it's often the simple advice that's easy to swallow and hard to follow.
Kevin O'Leary understands that getting a handle on your personal finances can be challenging at any age. Whether you're a parent struggling to explain savings to your children, a student contemplating a big loan to pay for school, a newly engaged couple considering joint bank accounts, or a baby boomer entering retirement, Kevin offers solid, practical advice to help you make—and keep—more money.
As a star on ABC's Shark Tank, Kevin's success with money management and in business is legendary. But he's made mistakes along the way, too, and he's written this book so others can benefit from his experiences. Each chapter is geared to a specific age or stage in life and focuses on simple changes you can make to avoid debt, save money, and invest for a brighter future. You'll find real-life examples of common money mistakes and strategies for avoiding them, "Cold Hard Truth" quizzes and charts aimed at boosting your financial wisdom, and tips and tricks for making more money and growing it faster to achieve financial freedom.
Synopsis: Kevin O'Leary provides you with a clear, no-nonsense personal finance guide that
will help you build a secure future for yourself and for the ones you love.
We saw all the successful life and story of Kevin O'Leary. We saw how it all started and what he has reached now. Let's get 3 major tips and advice from him to finish perfectly.
3 Tips & Advice from Kevin O'Leary:
1. Forget the 9 TO 5
Being an entrepreneur is not just about becoming instantly rich and start having fun all day. Neither not to organize our lives as we want, to decide to spend some few hours working and some others partying…It's definitely not like that!
We already said that in the useful guide for new entrepreneurs. But let's say the old quote all over again:
"Entrepreneurs are willing to work 80 hours a week to avoid working 40 hours a week."
2. Calculate the risks before you take them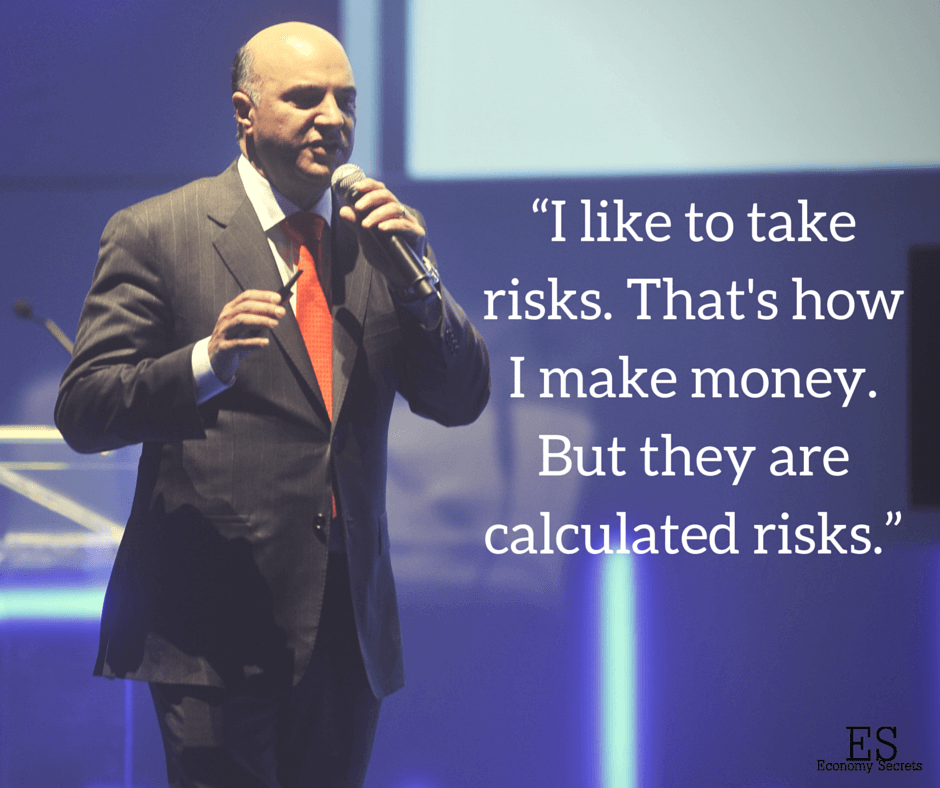 It's nice to be a risk taker. But if you are willing to always take just uncalculated risks you are just going to end up losing most (all!) of the time.
3.Be ready to fire people
If you start working and hiring people that are more holding you back than pushing you to reach and achieve higher success, what would you do? Kevin O'Leary would just fire them and he wants you to do the same.
That last one doesn't fit with the principles of great leaders as Simon Sinek said. Tell me, with who do you agree more? 
Image credits: 1 2 3 4 5