Daymond John is a successful American businessman, investor, author and also TV personality. Mostly known for his appearances on the famous TV show Shark Tank. Where he is a jury with Barbara Corcoran, Mark Cuban, Robert Herjavec, Lori Greiner and Kevin O'Leary. His actual net worth is estimated to be $250 million.
Today, we are going to see how he was, he started in business and became all this successful.
Early Life
Daymond John was born on 23 February 1969 in New York, USA. He grew up in the Queens, exactly in the neighborhood of Hollis.
Daymond John was an only child raised just by his mother and grandfather. His father left him when he was only 10.
John's mom to avoid to see her kids get in any kind of troubles in the neighborhood, set for him some rules to respect. Principally, he had to respect a curfew. In summer, John was supposed to be at home before the exterior light goes on outside one of  the most famous buildings in New York City: The Empire State Building.
In winter, when the evening start earlier, John Daymond had to be at home before 7:45 pm. By that time the Concorde -the fast noisy plane- would shake the Queens's homes as it arrived in New York.
John Daymond studied in Bayside High School. In it, he participated in a co-op program which allowed him to have a full-time job and attend school. All of this on an alternating weekly basis. A program that he will credits later for injecting on him the entrepreneurial spirit.
After high school, he managed some few side businesses, including working as a van driver. And it's by that time that Daymond John's business life really start.
Business Life
Daymond John the Godfather of Urban Fashion
As said earlier,  Daymond John graduates from high  school. But even though he was a smart, bright kid, he never went to college. So he had run some few businesses in the mean time. He was persuaded that he was smart and deserves to be a millionaire. But by the age of 22 he started having doubts…
A bright light hopefully started to shine for him. Hollis, the neighborhood where he grew and lived was the birthplace of hip-hop music.
Wool hats and their tops off and tied with the fishing line were very popular then at that time. Daymond John noticed that they were not only very popular but also overpriced, each one was sold for $20.
He went home and sewed -his mom taught him to sew when he was growing up-  for himself. Then he sewed some for his friends. A while later he started selling them.
And one day in 1992, he collaborated with his next door neighbor and created FUBU:" For Us By Us"-a brand that will be worth many millions in the future-.
Then they sewed around 90 hats. They sold their homemade hats for $10 each in front of the New York Coliseum. They made $800 in a single day!
Daymond John saw and realized the potential of that market. He decided to take it to next step, so they created a distinctive logo and start putting it on everything. From hockey jerseys to sweatshirts and T-shirts.
The FUBU brand definitely took off, when Daymond John convinced a hip-hop superstar and Hollis native to wear a FUBU hat in a GAP commercial and sneak a rap line: "For Us, By Us, on the low."
Here is the GAP commercial:
(PS: there is mistake in the year, I tried to contact the channel owner of that video, but he seems unreachable)
This move made the brand more popular. But to keep expanding the business and be able to satisfy all the customers. FUBU needed money. In 1993, Daymond John and his mother mortgaged their house then for $100,000 to generate the start-up capital needed.
The home was at that time used as a makeshift factory and office for the company.
But FUBU officially became famous in 1994, in a tradeshow in Las Vegas.  Despite the fact that Daymond and his partners couldn't even afford a stand, FUBU received more than $ 300,000 worth of orders.
And it didn't stop here, FUBU kept growing by signing contracts with Macy's  and started to expand their line to include jeans and outwear. FUBU also had a deal with Samsung which allowed their designs to be manufactured and delivered on a massive scale.
By 1998, FUBU returned $350 million in revenues. And  has actually, by the time you are reading this post, amassed over $ 6 billion in global sales.
Daymond John The Shark
Over the years, Daymond John continued to  focus mainly on the clothing industry. He founded or acquired other clothes lines,  like COOGI and DrunkunMunky.
One day, the television producer Mark Burnett asked him if he would like to star on Shark Tank. John initially refused. Why would he join a show, where there will all kind of business pitches? Daymond John always prefers to invest in what he has expertise. When you talk about millions in investments, you better know where you are putting it, and what are the chances for success. If it's not the case you are just playing the roulette.
But hopefully, he changed his mind, and what he saw as a danger, became for him a real opportunity. The show gave him a lot of opportunities with a big variety of products:
Here are some examples of the investments made by Daymond John through the Shark Tank TV show:
Nowadays
Nowadays, except his busy life as a shark tank investor, he also has some activities that he does in the meantime. He works with brands and celebrities to create additional revenue streams and brand extensions.
Daymond John is also a brand ambassador for the e-commerce business company Shopify.
He is also a motivational and business speaker that attends to many events per year.
He also has written two books: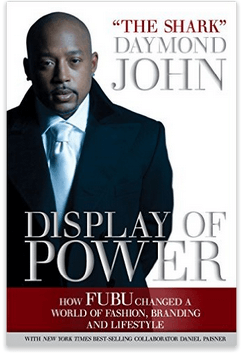 Display of Power: It's an autobiography that details his life and his early business career.
The Brand Within: A book where he relates and explain the power of branding. It's described as a "dynamic roadmap to growing a successful brand."
That's it for this Shark Tank success story. Daymond John is a self-made multimillionaire and he just started by pursuing what he likes and putting items he liked at the prices that it deserves.
So what's holding you to start and be a self-made millionaire or more?
Image Credits: 1, 2 & 3.