Robert Herjavec is mostly known for being one of the five investors on the ABC's "Shark Tank" with Barbara Corcoran, Mark Cuban, Kevin O'Leary, Lori Gein and Daymond John. But he is more than that, and he has quite a backstory behind his actual success.
Robert Herjavec has now an actual net worth of  $200 million and till the age of eight he didn't know how to speak English but only Croatian.
Robert Herjavec was not the best student with the best grades, but it couldn't stop him to achieve his actual success.
Let's see all his story and get inspired from it.
The early life of Robert Herjavec
Robert Herjavec was born on 14th September 1962, in Varazdin, Croatia. He grew up until the age of 8 in Zbjej. By 1970, Robert Herjavec and his family left the communist regime to live in Canada.
They left Croatia according to Robert Herjavec with only one suitcase and $20 in hand. They arrived in Halifax and had no place to live, not even a tent. Hopefully, his mom remembered that she had a friend in Toronto. They took the train to there and lived in his mom's friend's basement for the next 18 months.
The transition was not easy. Robert Herjavec who spoke no English at that time, found himself in a much poorer class than his neighbors. But there were no excuses and they have just to accept the situation and try to improve it.
Robert Herjavec's father was an example, an idol for Robert in his life. He describes him as "a really, really tough guys" from who he learned a lesson that became one of Herjavec life principles.
Robert Herjavec mentions a memory when he came home and complained to his mother about his classmates who were making fun of him. His father, who were going to work by walking in order to save money of bus fare, came home and when he heard about this story he taught Robert to "Never complain". That helped Robert Herjavec and sparked his perseverance.
Another major lesson that Robert Herjavec learned through his life was when a traveling salesman convinced his mother to buy a vacuum cleaner for $500. It was worth 7 weeks of salary! Since then, Robert Herjavec promised that his family would never be taken advantage of again.
By the year 1984, Robert Herjavec graduated from New College at the University of Toronto with a degree in English literature and political science.
Before jumping into the entrepreneurship adventures, Robert Herjavec had  done so many side jobs like waiter, salesman, …etc, in order to support his family.
He learned a lot from these side jobs, lessons that will benefit him a lot later in his life.
The Business Life of Robert Herjavec
Robert Herjavec first career, except for the side jobs, was in the film industry. He worked in so many different productions and reached the culminating point of his film career when he was the Field Producer of the 14th Winter Olympic Games in Sarajevo, Bosnia and Herzegovina for Global TV.
He received an honor as one of the youngest producers of the Olympic coverage.
After a bit, he got a job at the company Logiquest. His first role was in sales, but he worked hard and made all his way up to become general manager. Then in 1990, he got fired!
Robert Herjavec was not going to step aside and start getting miserable. He kept working! In the same year he got fired, 1990, he launched his own internet security company: "BRAK Systems" in his basement.
Back at that time, he wasn't thinking about becoming an entrepreneur, but he needed to figure out a way to pay his mortgage.
After 10 years, BRAK Systems became the largest Internet security company in Canada. That's when Robert Herjavec started to accumulate wealth.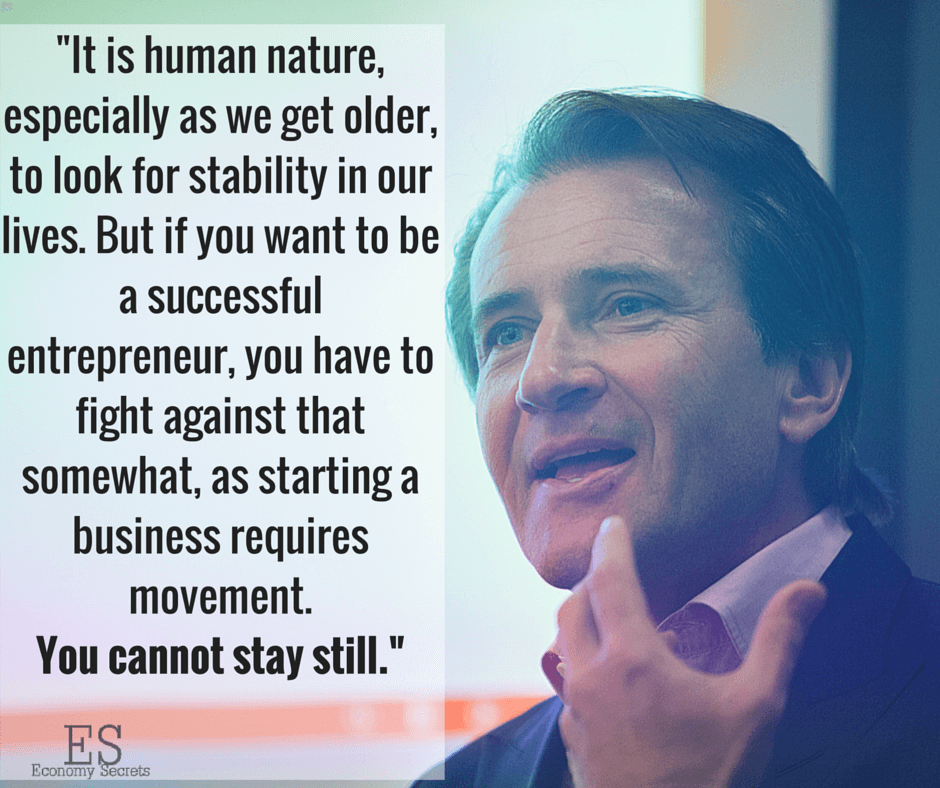 In 2000, BRAK Systems were sold to AT&T for $30.2 million in cash.
After that sale, Robert Herjavec began working for AT&T  and then took a job at the firm "RAMP Networks". He worked as the VP of sales, helping the company to sell another IT company to Nokia for $225 million.
Next, Robert Herjavec took a break and decided to dedicate more time to his family and to himself. He retired for the next three years.
The three years passed and Robert Herjavic found himself back to the entrepreneur path again.
So, in 2003 he founded a new internet security company "The Herjavec Group".
The Herjavec Group quickly grew to start earning tens of millions of dollar every year! And yet this business is still growing day after day.
That's in brief how Robert Herjavec came from a poor family that immigrated to Canada to became even poorer compared to his neighbors, but yet he achieved success and wealth. He didn't settled  and went from the 99% of people that represent the poor class to  become in the 1% of the wealthiest people of the world.
Robert Herjavec except being a successful entrepreneur, a millionaire, a TV host in shows like Shark Tank and The Dragon's Den, he also an author!
Robert Herjavec as an author
Robert Herjavec has written two books already. In the two books, he gives a retrospective about his life and some keys to succeed in life and business. Here are the two books he wrote:
Driven: How To Succeed In Business And In Life: the commercial synopsis:
Robert Herjavec has lived the classic "rags to riches" story, from having $20 in his pocket to starting up technology companies worth hundreds of millions of dollars. Now the star of television's Dragons' Den and Shark Tank, this son of Croatian immigrants earned his incredible wealth by overcoming the odds with hard work and determination. On television, Herjavec bankrolls the best inventions and shoots down the best of intentions. Now, he's sharing his hard-won wisdom in one of the most inspirational business books of recent times.
In Driven, Herjavec shares the secrets that took him from his job waiting tables to growing his nascent technology company into a world-class conglomerate, The Herjavec Group. Herjavec's principles are as valuable in the living room as they are in the boardroom. Anyone can succeed, on their own terms, by following his sage but simple advice—if they're willing to take chances, to take control of their own future and to stay true to their own visions.
The Will To Win: the  commercial synopsis: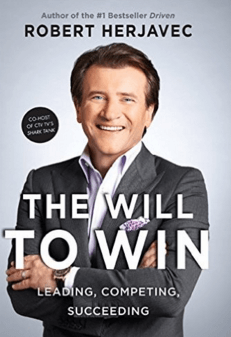 In his bestselling business book Driven, Robert Herjavec, the co-star of CTV's Shark Tank and former co-star of CBC's Dragons' Den, urged his readers to embrace risk, take control of their lives and stay true to their visions. Now, Herjavec pushes his readers even further toward greatness.
Known for his honesty, integrity and powers of persuasion, Herjavec never fails to reach for the highest rung on the ladder. In The Will to Win, he shares some of his own secrets for greatness, whether it's knowing when to be aggressive (and when not to be), when to talk and when to listen, or when and how to ask the right questions. And he reminds us that we all have the same 24 hours a day in which to maximize our future-it's how we spend those hours that counts.
Whether you are seeking to build the next big communications technology company, become the most respected teacher in your education system or make a lasting impact as an artist in your field, the most important decision you can make, according to Herjavec, is to reject mediocrity. Drawing on anecdotes from his own life and from the lives of celebrity friends such as Oprah, Georges St-Pierre, and Celine Dion, he delivers valuable lessons that will guide readers to greater happiness and success.
Note:
I will give a personal review on both books, by the time I read them.
Well, that's it for Robert Herjavec success story… but just before we finish it, can we get a nice advice, Mr. Robert?
THE BEST SECRET TIP FOR SUCCESS IS THAT THERE IS NO SECRET TIP AT ALL!
The most successful entrepreneurs are certainly smart and talented, but it's always the long hours of hard work and tireless focus that can make them succeed.
Do you agree? 
Image credits: 1 2 3 4 5 6 7