Dwayne Johnson, aka The Rock, is one of the most famous actors nowadays. He came such a long way from his wrestler career. One thing is sure, he wanted to succeed in life, and hell he did!
He hustled and worked very hard to succeed. He knows what it takes to succeed in life. He truly and genuinely can motivate you to reach the success you has always been looking to get.
So today, we are going to see 22 Dwayne Johnson quotes that will certainly help you to get closer to your dreams, and why not….to achieve them!
Let's start!
1.

2.
"Don't be afraid to be ambitious about your goals. Hard work never stops. Neither should your dreams." – Dwayne Johnson
3.
"I like to use the hard times of the past to motivate me today." – Dwayne Johnson
4.
"Grind Hard, Shine Hard." – Dwayne Johnson
5.
"Success at anything will always come down to this: Focus & Effort, and we control both." – Dwayne Johnson
6.

7.
"Success isn't always about greatness, it's about consistency. Consistent, hard work gains success. Greatness will come." – Dwayne Johnson
8.

9.
"With drive and a bit of talent, you can move mountains." – Dwayne Johnson
10.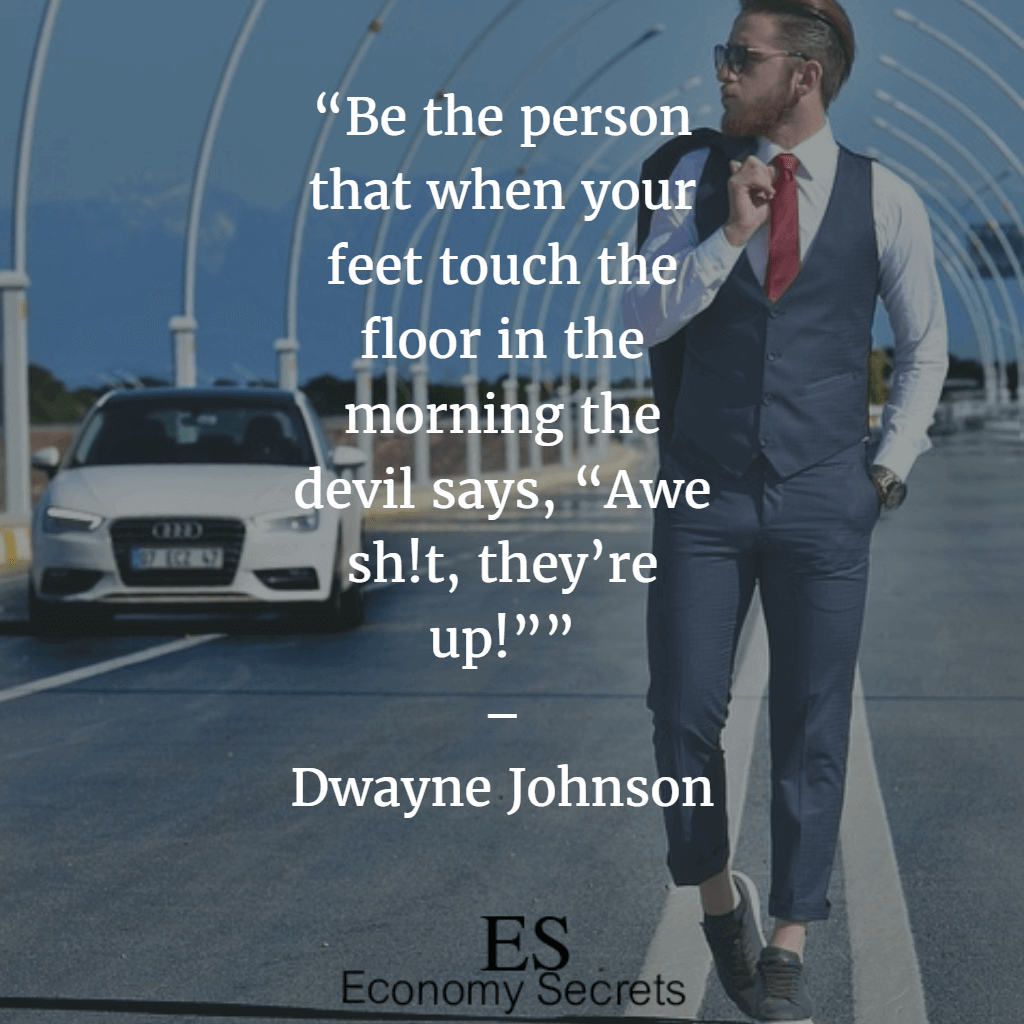 11.
"In 1995 I had $7 Bucks in my pocket and knew two things: I'm broke as hell and one day I won't be." – Dwayne Johnson
12.
"Success isn't an overnight thing. It's when every day you get a little better than the day before. It all adds up." – Dwayne Johnson
13.

14.
"Think back 5yrs ago. Think of where you're at today. Think ahead 5 years about what you want to accomplish. Be unstoppable." – Dwayne Johnson
15.
"There is no substitute for hard work. Always be humble and hungry." – Dwayne Johnson
16.
"Not only do I think being nice and kind is easy, but being kind, in my opinion is important." – Dwayne Johnson
17.
"When life puts you in touch situations, don't say "Why Me?" Just say "Try Me."" – Dwayne Johnson
18.

19.
"If something stands between you and your success, MOVE IT! Never be denied." – Dwayne Johnson
20.
"One of the most important things you can accomplish is just being yourself." – Dwayne Johnson
21.
"The first step to achieving your goal, is to take a moment to respect your goal. Know what it means to you to achieve it." – Dwayne Johnson
22.

Between all these Dwayne Johnson quotes, which ones are your favorites?
Let us know about it in the comments  below.