Michael Jordan is one of the top famous sports icon ever. He is a legend of Basketball and since he retired we are always hearing about this guy could be the next Michael Jordan or this guy, maybe this one…. But there is only one and only Michael Jordan in the history of that sport.
He is a legend but he was not always approved as a great basketball player. He wasn't accepted in his school team considering that he was "not good enough". After a lot of hard work and dedication, he turned out to be the best one that we might ever know in this game.
Today, I am sharing with you 42 Michael Jordan quotes that will certainly motivate you to work for your goals and pursue your dreams. Let's start!
1.
"You must expect great things of yourself before you can do them." – Michael Jordan
2.
3.
"The key to success is failure." – Michael Jordan
4.
"Talent wins games, but teamwork and intelligence win championships." – Michael Jordan
5.
6.
"There is no "I" in "team" but there is in "win." " – Michael Jordan
7.
"Once I made a decision, I never thought about it again." – Michael Jordan
8.
"Learning's a gift, even when pain is your teacher." – Michael Jordan
9.
"The minute you get away from fundamentals – whether it's proper technique, work ethic or mental preparation – the bottom can fall out of your game, your schoolwork, your job, whatever you're doing." – Michael Jordan
10.
11.
"The game is my wife. It demands loyalty and responsibility, and it gives me back fulfillment and peace."– Michael Jordan
12.
"I've failed over and over and over again in my life and that is why I succeed." – Michael Jordan
13.
14.
"I play to win, whether during practice or a real game." – Michael Jordan
15.
"My attitude is that if you push me towards something that you think is a weakness, then I will turn that perceived weakness into a strength." – Michael Jordan
16.
"Everybody has talent, but ability takes hard work." – Michael Jordan
17.
"To be successful you have to be selfish, or else you never achieve. And once you get to your highest level, then you have to be unselfish. Stay reachable. Stay in touch. Don't isolate." – Michael Jordan
18.
"Obstacles don't have to stop you. If you run into a wall, don't turn around and give up. Figure out how to climb it, go through it, or work around it." – Michael Jordan
19.
"Always turn a negative situation into a positive situation." – Michael Jordan
20.
"If you quit once it becomes a habit. Never quit!" – Michael Jordan
21.
"I know fear is an obstacle for some people, but it is an illusion to me. Failure always made me try harder the next time." – Michael Jordan
22.
23.
"If it turns out that my best wasn't good enough, at least I won't look back and say I was afraid to try." – Michael Jordan
24.
"Don't let them drag you down by rumors just go with what you believe in." – Michael Jordan
25.
"My body could stand the crutches but my mind couldn't stand the sideline." – Michael Jordan
26
"I've never lost a game I just ran out of time." – Michael Jordan
27.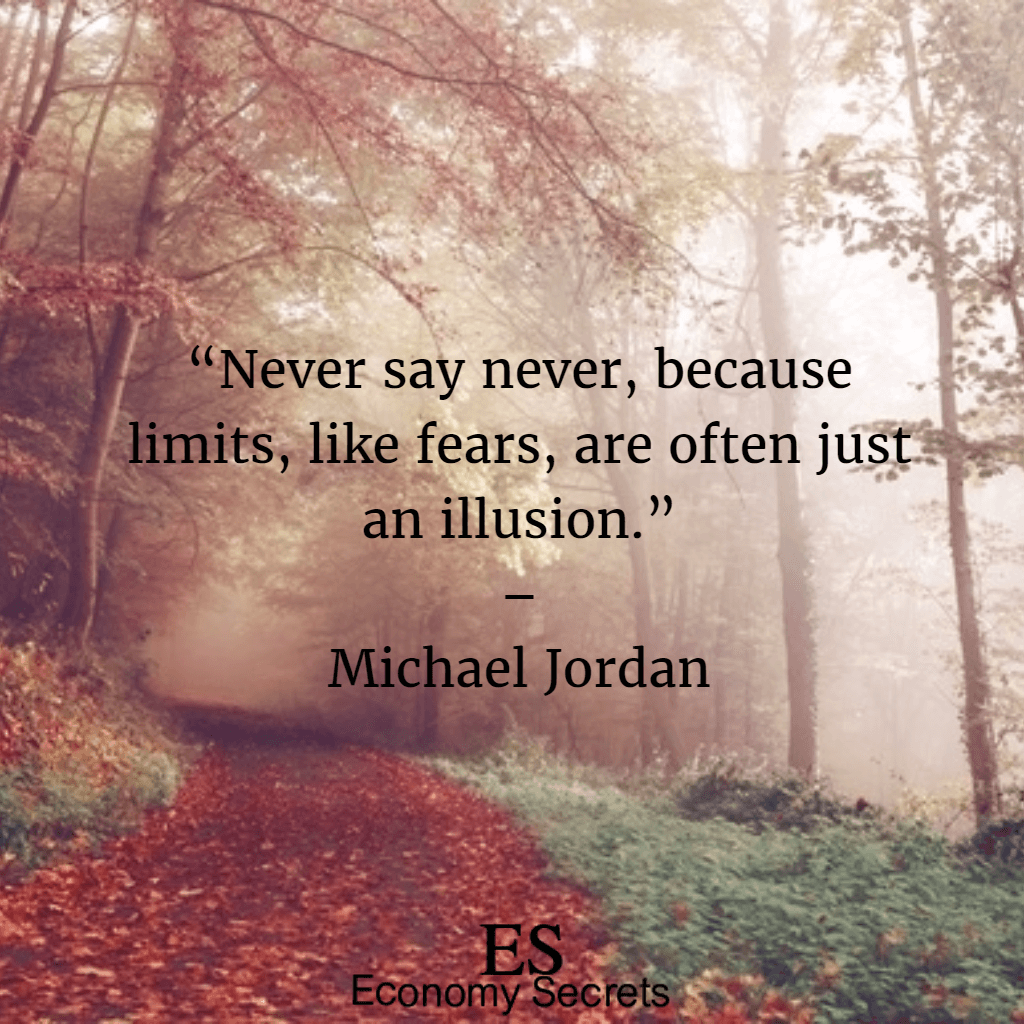 28.
"I never looked at the consequences of missing a big shot… When you think about the consequences you will always think of the negative result." – Michael Jordan
29.
"I'm not out there sweating for three hours every day just to find out what it feels like to sweat." – Michael Jordan
30.
"It's heavy duty to try to do everything and please everybody. My job was to go out there and play the game of basketball as best I can. People may not agree with that. I can't live with what everyone's impression of what I should or what I shouldn't do." – Michael Jordan
31.
32.
"Every time I feel tired while I am exercising and training, I close my eyes to see that picture, to see that list with my name. This usually motivates me to work again." – Michael Jordan
33.
"I believe greatness is an evolutionary process that changes and evolves era to era."  – Michael Jordan
34.
35.
"You have competition every day because you set such high standards for yourself that you have to go out every day and live up to that." – Michael Jordan
36.
"Enjoy every minute of life. Never second-guess life." – Michael Jordan
37.
38.
"You can practice shooting 8 hours a day, but if your technique is wrong, then all you become is very good at shooting the wrong way. Get the fundamentals down and the level of everything you do will rise." – Michael Jordan
39.
"Sometimes, things may not go your way, but the effort should be there every single night." – Michael Jordan
40.
41.
"If you accept the expectations of others, especially negative ones, then you never will change the outcome." – Michael Jordan
42.
Between all these Michael Jordan quotes, which ones are your favorites?
Let us know about it in the comment section below.